Today I'm sharing a little metamorphosis with a $1.00 plastic pumpkin.
It began like this:
and was transformed to this.
Thanks to Kelly over at Eclectically Vintage for the inspiration!
She has several neat ideas for fall on
this
post.
Kelly used beautiful mums inside her pumpkin planter, I decided to use a different plant.
Mine ending up looking like Wilson.
You know, Wilson from Tom Hank's Castaway!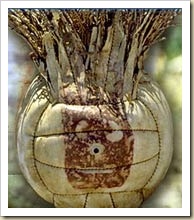 source
ugh...Not what I was going for.
So I took Kelly's basic instructions and tweaked things a bit for my project.
I used diluted Elmer's Glue (Mod Podge would most likely work too),

approximately 10 sheets of music cut into strips for each pumpkin,
and immersed the strips into the diluted glue mixture.
Be sure to cover your work surface because it gets messy.
Then take each strip and "glue" it to your pumpkin.
I didn't want any of the green to show, so I gave my guys two layers of strips.
The strips above were used for the first layer because they were the edges of the sheet music and had blank sections.
For the second layer, I wanted more notes to show so I used the "busier" strips.
After the strips dried, I diluted acrylic paint and gave the pumpkins a little color.
After this dried, I added my plant....and...I wasn't pleased with the look at all.
Kelly's were so pretty with mums...
but...I didn't have any on hand.
See, I told you, it looks like Wilson's brother.
My husband even agreed.
Plan B.
I needed something to cover the gaping hole at the top of the pumpkin...
hm...
I just happen to have small paper plates that were fairly sturdy...
and
they just happen to be the perfect size, well, after I trimmed them a bit.
These were covered too with strips and allowed to dry.
Next a hole was cut out of the middle of the plate
and a
couple of sticks
stem was inserted and glued in place.
Adding a little jute to the stems, moss to cover the plate, and burlap leaves, I was feeling better.
And for something a little extra, tendrils were added.
They are very simple to make:
immerse the jute into the diluted glue mixture and wrap around a straw.
(Secure them in place with straight pins.)
After they are dry, simply glue them into place with your hot glue.
Much better.
Thanks again Kelly for the original inspiration!
I'm joining these parties:
Susan at
Between Naps on the Porch
for
Metamorphosis Monday
Mary at
Boogieboard Cottage
for
Masterpiece Monday